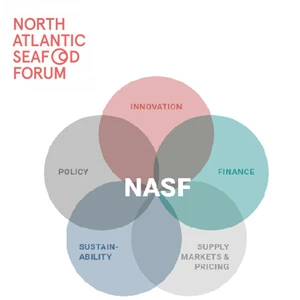 North Atlantic Seafood Forum
6-8 March, 2018 in Bergen
A World-leading Executive Meeting Place
The NASF conference provides new and invaluable insight and is your fasttrack to the global seafood markets.
We offer you:
insight into vital developments shaping the future of the industry.
the latest news in innovative and commercial development.
facts about the industry's political and legislative directions.
an understanding of the financial and economic issues affecting the market.
an opportunity to connect with the leading seafood companies in the world.
The NASF conference will provide new and invaluable insights and give you the fast-track to the global seafood markets.
A pre-conference - sets focus on Marine innovations and Solutions and business development
Opening session - "The View from the Bridge"; learn from politicians, industry captains and leading seafood companies
Parallel sessions - for the latest update on industry challenges, supply and market outlook, prices, innovation and business, and sustainability issues
Corporate Finance Seminar - meet 15 of the world's leading stocklisted seafood firms, investors and financiers
Major industry arena - for developing business and commercial opportunities
Read more here...