Stavanger:
The Stavanger region has many scenic attractions, among them the Lysefjord, Sola beach and the world famous Preikestolen ("the Pulpit Rock"). Stavanger is a university city and home to a number of institutions of higher education and research. In 2008 Stavanger and Sandnes were designated European Capital of Culture. In 1969 the first oil field was discovered at Ekofisk south in the North Sea, which made the Stavanger Region a key player in the Norwegian economy. Today, Stavanger is Europe's oil and energy capital, and the main source of income for the locals comes from working in the petroleum sector. This industry attracts different nationalities to the region, making it a highly international destination. The city centre of Stavanger is quite compact, which makes it easy to reach most attractions on foot. Old Stavanger offers Europe's best preserved wooden house settlement, consisting of more than 170 white wooden houses. On your walk you can easily stop by some of the city's many museums, such as the Norwegian Petroleum Museum, Stavanger Art Museum and the Norwegian Canning museum.  
City Map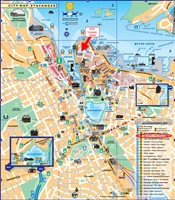 Nearby Hotels:
The following hotels are within a short distance of the venue. (Please note that SUREAQUA has no affiliation with these hotels, and this list is for informational purposes only.)
Within a 2-3 minute walk:
Skansen Hotel
Best Western Havly
Clarion Collection Hotel Skagen Brygge
Within a 10-15 min walk:
Myhregaarden Hotel
Thon Hotel Stavanger
Comfort Hotel Stavanger
Comfort Hotel Square
Radisson Blu Royal Hotel
Clarion Hotel Stavanger
Scandic Stavanger City
Scandic Stavanger Park
Getting Here:
By plane
Stavanger Airport Sola is approximately 15 minutes by car to downtown (without traffic). A shuttle bus takes you to and from the airport and the town centre of Stavanger, which departs every 20 minutes with a travel time of about half an hour. There are also car rental companies at the airport if you prefer to drive.      

By road
The following roads lead to the region: the North Sea Road, highway E39, the scenic Suleskarvegen and the Fjord Road.
Distance Oslo - Stavanger: 497 kilometres; Distance Bergen - Stavanger: 220 kilometres; Distance Kristiansand - Stavanger: 233 kilometres      

By train
The line from Oslo to Stavanger is a scenic eight-hour journey. Contact NSB (the Norwegian State Railways) for timetables and booking.       
By boat
The express boats Flaggruten go between Stavanger and Bergen twice a day. The approximate travel time is four and a half hours. Other ferry companies that operate in Stavanger are Color Line and Fjordline (including Hirtshals in Denmark).       
By bus
Nor-Way Bussekspress has several daily departures from Bergen, Oslo and Kristiansand to Stavanger. The approximate travel time is five hours from Bergen, four hours from Kristiansand and ten hours from Oslo. There are also good connections by bus to and from Haugesund.
Tourist Info:
Visit Norway