Ole Ringdal, President of the International Research Institute of Stavanger, has signed the contract with NordForsk officially establishing the new SUREAQUA Nordic Centre of Excellence. The Centre will work with several industry and research partners to foster growth in the blue bioeconomy across the Nordic region. "I am very proud that IRIS will be the host of the new SUREAQUA Centre of Excellence," declared Ringdal. "The partnerships and collaborative energy that will be created both here in Stavanger and across the Nordic region will be invaluable, and we are very pleased to be at the centre of the blue bioeconomy discussion."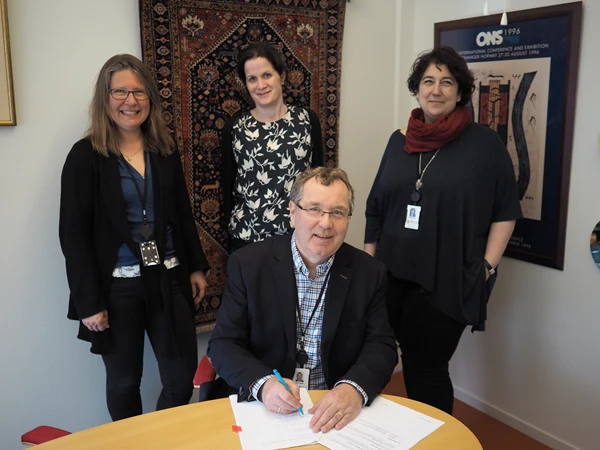 Front: IRIS President, Ole Ringdal.
​Back: IRIS Environment Senior Vice President, Susanne Gitlesen;
SUREAQUA Leader, Fiona Provan; and SUREAQUA Co-Leader, Elisa Ravagnan.
The focus of SUREAQUA is on producing and sharing knowledge and solutions for sustainable and resilient aquatic production, and includes a wide range of projects, such as getting the most out of fisheries by-products and waste, using nano-technology for real-time environmental monitoring, developing alternative energy sources for use in aquatic production, and developing closed-system aquaculture production. The Centre will also study social and economic benefits and impacts, as well as addressing the regulatory and governance structures needed to ensure responsible and sustainable growth in the aquaculture industry.
"We are very excited to coordinate the SUREAQUA Centre and to build on the many opportunities this excellent consortium will present for making real contributions to the blue bioeconomy through research and innovation," says Susanne Gitlesen, Director of IRIS' Environment Department, which will be managing the SUREAQUA Centre. "The range of expertise represented by all the partners is extensive, as is the potential for developing products and methods that are both sustainable and profitable."